Lebnani, Reigate: 'Small but perfectly judged' – restaurant review | Food
September 25, 2022
Lebnani, 11 Church Street, Reigate RH2 0AA (07495 528919). Messe £5.95-£6.95, larger dishes £9.50-£17.50, desserts £5, wines from £24.95
With the bad places, the moment never comes, however much you might wish it were otherwise. Perhaps you make allowances for the clumsy service, or the overblown decor, or the try-too-hard menu splattered with simpering adjectives – Sumptuous! Delectable! Toothsome! – which leave you muttering, "I'll be the judge of that." You accept all of that in the hope that something you have ordered will arrive and you'll take one look at it and know, in the way you know your own name, that everything is actually going to be fine. With the bad places, that dish never arrives.
With the really good places, the moment always comes early. At Lebnani in Reigate, the first reassuring sign comes very early indeed: a glass bowl of small, intensely flavoured black and green olives, delivered to the table with the water. It is as if their compactness has concentrated their very brackish essence within the taut, shiny skins. They are mixed through with salty, chopped preserved lemons, and flecked with the red of diced peppers. We pick at them compulsively, sometimes with cocktail sticks, sometimes with our fingers until their tips are shiny with the oils. We soothe the lightly bitter edge with glasses of their own lemonade, flavoured with apple and ginger, or pomegranate and orange blossom.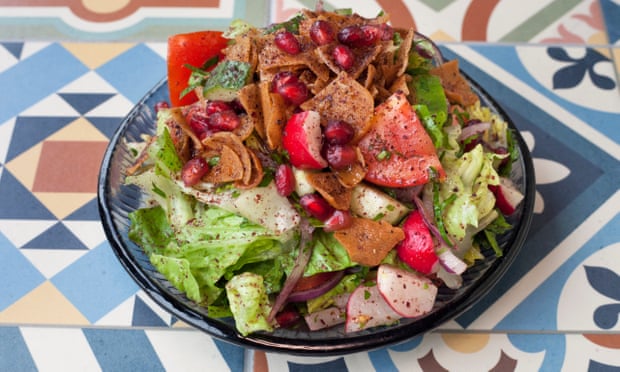 Then the Beirut fattoush arrives and we know, from the merest glance, that we really have found our way to the right table. It's a beauty. The thin curls of deep-fried flatbread are golden and lightly oiled, and dusted with the deep purple of sumac. Some of that citrus promise has found its way on to the bright green of the leaves and cucumber beneath. Shiny, pert, ruby jewels of pomegranate finish the picture. You know it's going to be fabulous to eat, long before you even lift your fork in ardour, and it is: crisp and fresh, bright and zingy. It is food that makes you feel like you are engaged in an exercise of profound self-care. It's "me time" in a succession of beautifully dressed plates.
The executive chef and proprietor at Lebnani is the Beirut-born Jad Youssef who, back in 2008, set up what became the small Yalla Yalla group of Lebanese restaurants in central London before selling up. For a while he led the kitchen at the much fancier, now closed, Fakhreldine and then joined a similar restaurant in Hong Kong as executive chef. Now he's also here in Surrey's commuter belt, with a menu of meze at around £6 a plate and bigger dishes in the mid-teens. From Tuesday to Friday, they'll do you a wrap with salad, hummus and pickles for £11.95. Apparently, Youssef divides his time between the two restaurants which, given the 5,989 miles between them – thank you nice Mr Google for that precise figure – sounds like a challenge. In truth,…
(Excerpt) To read the full article , click
here