(CNN) —  
We all throw away a lot of things, but surprisingly, sneakers are one of the items filling up our landfills the most. Americans throw away 300 million pairs of shoes per year, and combined with discarded clothes, shoes were responsible for about 17.6% of all trash in American landfills in 2017.
But there is some good news: Eco-friendly shoes are gaining popularity as a sustainable alternative to traditional shoes, which can stay in landfills for an average of 25 to 80 years. And one such pair by minimalism experts at Everlane checks all the boxes not only in terms of sustainability, but also as a classic, easy-to-wear style.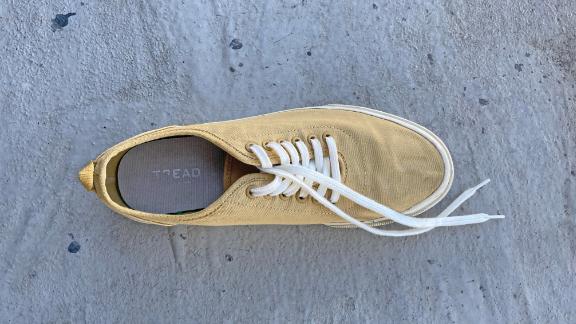 The Everlane Forever Sneaker is made with responsibly sourced materials such as a recycled cotton-canvas upper and a partially natural rubber sole. The shoe is also fully recyclable, made with a 50% cotton and 50% canvas upper and a rubber outsole, metal eyelets, laces made from 100% recycled polyester and an insole made from recycled polyurethane. Once you've worn out your pair or want to make room for something new, you can simply drop it off at any Everlane store or contact the brand for a prepaid shipping label, and it won't ever see a landfill.
Everlane is able to eliminate post-consumer waste created by its Forever Sneaker by partnering with Debrand, a California-based recycling company. The rubber sole gets mechanically ground into equestrian flooring and the upper is remade into mats. On top of all this, Everlane purchases carbon offsets for any carbon emissions it couldn't eliminate from the process. Everlane calculated the carbon emission of the Forever Sneaker to be 7kg CO2E (or carbon dioxide equivalent, a standard unit for measuring carbon footprints), its lowest impact shoe ever.
While this all sounds great for the planet, none of it would really matter if the shoe doesn't look good. Luckily, Everlane's sleek, sophisticated aesthetic translates perfectly into its new sneaker. The shoe has a classic, yet casual design reminiscent of time-tested Vans or Keds, with a slim and narrow profile. The low-cut canvas comes in five different colors: white, black, sycamore, teak and India ink. Stylistically, it's a versatile, everyday shoe that matches any outfit.
I loved the sound of a low-impact, fully recyclable sneaker (that also looks nice) so we tried out the Forever Sneaker for ourselves. Everlane sent a pair, and I wore them as my primary shoe for one whole month. While I didn't make as many trips out of the house as I would have if there wasn't an ongoing global pandemic, the sneakers were still put through its paces to see how comfortable, washable, durable and stylish they actually are.
…