When the first tendrils of autumn crept their way into our poorly insulated homes, the messages started. Friends and coworkers started asking me something I'd never been asked before: "What slippers should I buy?" It was something I'd been wondering too, researching the perfect pair on consumer review websites.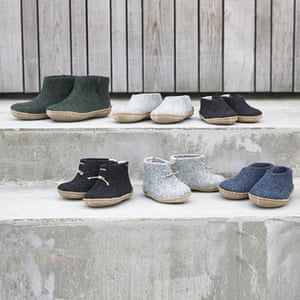 I settled on Glerups – boiled wool slippers, made in Denmark from New Zealand merino – lavishly praised by The Wirecutter, The Strategist and Afar. I had my credit card cancelled twice while attempting to procure them. A month after my third – successful – try at a purchase, they finally arrived. They're as cushiony, hygge and breathable as promised – though they make me look more like an elf on a shelf than a chic Scandi minimalist. Meanwhile, the requests for slipper suggestions kept coming.
This anecdote is backed by data – Australia is in the midst of a "slipper surge", as a representative of online shop The Iconic put it. They have sold three times as many pairs as they did this time last year. Google search trends reveal a similar pattern – more Australians are looking for slippers than ever before.
In early winter, there were reports of slipper-related injuries, nicknamed "Ugg boot foot" – though Australian Podiatry Association president Katrina Richards says that the biggest problems she's seen have been caused by the transition from house shoes to hard training, rather than slippers alone. "People just go too hard, too soon and you end up getting a lot of overuse injuries," she says.
Richards was not impressed by my Glerup slip-ons, since their lack of a heel counter to hold my foot in is likely to lead to "clawing", as my toes attempt to grip for purchase. "Your foot shouldn't have to do anything to try and keep in a shoe," she explains. Slides cause similar issues, even Birkenstocks, if they don't have a back strap. Grip socks also won't cut it – "there's not a lot of evidence to support their use".
Richards says Uggs aren't a great pick either, since – especially with older pairs – your foot tends to "flop around". "I give everyone the challenge of actually looking at themselves walking in the Ugg boots," she suggests, to see if your foot is properly held in and you're "walking perfectly straight on the sole of the shoe". In most instances, she suspects, the Ugg will buckle, causing you to tread on the upper.
Regardless of their limited orthotic support, Uggs still retain an emotional appeal. Alexandra Sherlock, a lecturer in fashion design at RMIT, who wrote her PhD on footwear and social belonging, suggests, "it's interesting with Uggs, because they're an iconic Australian shoe". She wonders if, in a time of crisis and uncertainty, that connection to national identity might be an important driver for people.