Rihanna's lingerie company Savage X Fenty accused of deceptive marketing
February 12, 2020
Lingerie customers who have shopped at Rihanna's intimate apparel brand Savage X Fenty have accused the company of deceptive marketing tactics with its Xtra VIP Membership program, according to the consumer advocacy group Truth in Advertising.
The marketing watchdog published a report Monday that criticized Savage X Fenty for not making its membership terms more prominent and went as far as to say the company has "engaged in deceptive marketing and illegal business practices" to get customers enrolled into the $49.95-a-month program without their express knowledge.
Truth in Advertising highlighted disgruntled customer reviews left on the Better Business Bureau to illustrate its point.
RIHANNA'S SAVAGE X FENTY LINGERIE LINE TAKES OVER FASHION WEEK AFTER $50M INVESTMENT
"I bought from this company once because of a sale, I did enjoy what I got. HOWEVER, WITHOUT MY KNOWLEDGE SAVAGEXFENTY USED MY DEBIT CARD INFORMATION TO SIGN ME UP FOR THEIR MONTHLY SUBSCRIPTION. this is a VIP package that costs $49.95 a month. I did not want or authorize the making of this account for me," one customer wrote in a review submitted to the BBB in October.
The customer added that they did not realize they were being charged for the Xtra VIP Membership for five months and lost $250 from their account as a result. However, the same customer did admit they received a full refund after they contacted customer service for assistance. Despite the correction, the review characterized the business tactic as "shady and disgusting."
Nine out of the 20 other reviewers on the BBB mentioned that they experienced difficulty in canceling their membership, which Truth in Advertising also noted in its report.
"I canceled my account. 4 months later they charge [sic] me again and said I was still a VIP…I have to change my bank account…" one customer complained.
AMAZON PRIME VIDEO, RIHANNA PAIR UP FOR STREAMED SAVAGE X FENTY LINGERIE SHOW
Truth in Advertising included screenshots of Instagram stories and desktop views of Savage X Fenty carts that the group found deceptive. It is important to note that the screenshots do in fact mention the "Xtra VIP Xclusive" and "Savage X Fenty Monthly Membership," but the font used is notably small or requires the customer to click a button to learn more about the program.
So it is not hard to understand how some customers who are in a rush or did not read the membership's terms and conditions could fail to realize that proposed discounts are contingent on signing up for the program.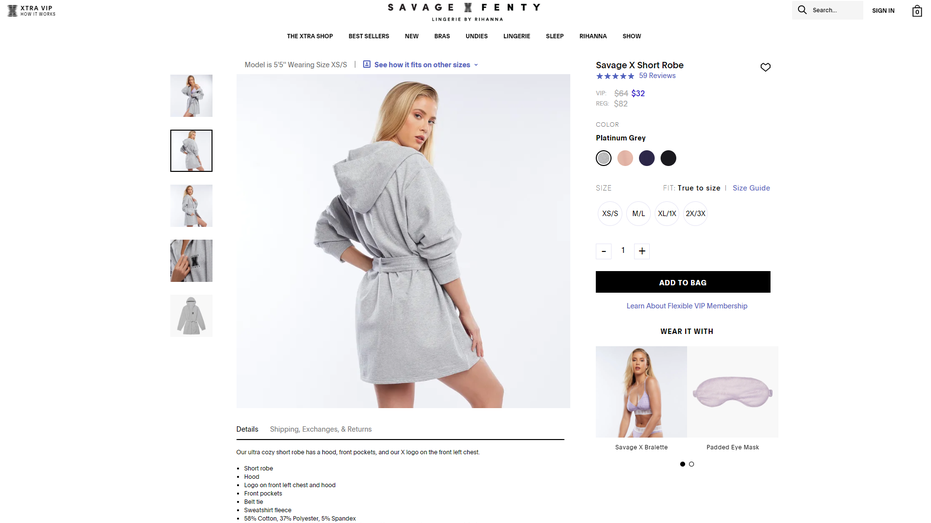 (Excerpt) To read the full article , click
here