Community Bank Profits Rise as Overall US Bank Earnings Fall by 7.3 Percent
December 1, 2019
Profits at U.S. banks fell by 7.3 percent in the third quarter due to "nonrecurring events at three large institutions" amid overall strong loan growth and a low number of problem banks, according to the Federal Deposit Insurance Corporation's quarterly banking sector report.
Banks and savings institutions whose depositors are insured up to the coverage limit by the FDIC generated a net income of $57.4 billion in Q3, which represents a drop of $4.5 billion from a year ago, the report notes (pdf). Also, the average return on assets fell from 1.41 percent to 1.25 percent year-over-year.
However, 62 percent of the 5,256 FDIC-insured institutions reported growth in profits over the past year.
"In line with recent years, more than 60 percent of all banks reported year-over-year increases in net income, and only 4.1 percent of institutions were unprofitable," said Diane Ellis, director of the FDIC's Division of Insurance and Research.
The FDIC said the decline in net income was caused by higher noninterest expense and loan-loss provisions and realized securities losses.
Jelena McWilliams, head of the FDIC, described the hits to bank profitability as one-offs.
"Overall, the banking industry reported positive results, despite nonrecurring events at three large institutions," McWilliams said. "While these events resulted in a modest decline in aggregate quarterly net income, the industry reported loan growth and the number of problem banks remained low."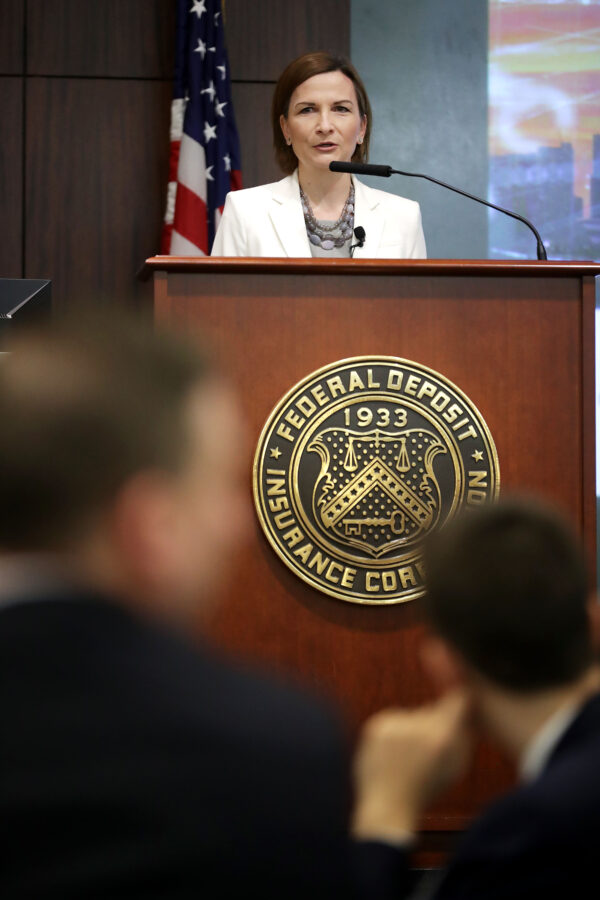 Net operating revenue in the banking sector totaled $208.2 billion in the third quarter, up 2.2 percent from a year ago.
"The growth in revenue was due to higher noninterest income, which grew by 4.3 percent," Ellis said.
Strong Community Bank Figures
Community banks, notably, saw a year-over-year increase in net income of $6.9 billion, up $466 million. This represents a 7.2 percent increase compared to the same period last year and the highest quarterly pretax return on assets reported by community banks since third quarter 2006.
McWilliams said growth in the loan portfolio was an important factor driving community banks' solid performance.
"Net income rose at community banks primarily because of higher net operating revenue," McWilliams said. "Additionally, the annual rate of loan growth at community banks outpaced the overall industry."
Problem Banks
The number of banks on the FDIC's "Problem Bank List" fell from 56 to 55 during the quarter, the report notes, which is the lowest figure since 2007.
Four new banks opened in Q3, for a total of 10 new banks in 2019.
"No banks failed in the third quarter," Ellis said.

The FDIC said that the assets of problem banks "rose modestly from $48.5 billion in the second quarter to $48.8 billion."
'Prudent Risk…
(Excerpt) To read the full article , click
here