Respond Fast launches next-generation voice technology using smart speakers for consumer engagement
September 10, 2019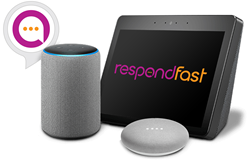 "This is the shiny new toy in direct response marketing," notes Respond Fast founder Mike Gunderson. "Move over, QR codes. Now, VACTA is the ticket to engage your customers and prospects, gather valuable marketing data and lift response."

HAYWARD, Calif. (PRWEB)
September 10, 2019
Respond Now, LLC announces the launch of Respond Fast, a Voice Activated Call-To-Action (VACTA) service that uses smart speakers to tap into offline marketing, information sites, surveys, reviews and other interactive platforms. It also helps track campaign attribution.
Respond Fast uses a unique phrase or code printed or announced on offline advertising media, such as a direct mail piece, print ad, collateral piece, TV/radio spot, billboard, signage and product label/packaging. Responders simply say, "[Alexa/Google], Launch Respond Fast," then are prompted to provide their phrase or code tied to a campaign or prospect outreach. Relevant marketing messaging and calls to action follow.
Depending on the nature of the interaction, the smart speaker can fulfill the request, or gather information needed to follow up via phone, shipping, or digital communication (e.g., text, email, website).
Shiny New Toy With Staying Power

"This is the shiny new toy in direct response marketing," notes Respond Fast founder Mike Gunderson. "Remember how cool it was to access information via a scanned QR code? How about the novelty of email offers when they first came on the scene? Now, VACTA is the ticket to engage your customers and prospects, gather valuable marketing data and lift response."
He adds, "It's frictionless. You see the code, speak it, and voila, you're connected to a fulfillment protocol. This type of immediacy and ease is fueling the meteoric rise of smart-speaker use, and helping ensure this shiny new toy will maintain its luster for a long time to come. All across the country, smart speakers are fast becoming the preferred method of searching."
Voice Poised To Revolutionize The Landscape

A late 2018 Contentmarketinginstitute.com article reinforces Gunderson's view: "How Voice-Activated Tech Will Change Content Marketing…Move over mobile marketing: A little voice is whispering that your time as 'the next big thing' is almost up… Actually, that whisper is more of a shout, and it's 'Echo'-ing across the digital landscape, as voice-response technology is rapidly emerging as the most disruptive force to hit the industry since the internet became a visual medium."
An early 2018 study by Capgemini Digital Transformation Institute estimated that already 24% of respondents preferred a voice assistant to visiting a website. Within a couple years, that figure is expected to rise to 40%. The study points out,…
(Excerpt) To read the full article , click
here