Stephen Smith worked at an AT&T call center in Meriden, Connecticut, for over 20 years before the giant telecoms company announced it was closing the city's three call centers in February 2019.
"At 46 years old, I'm looking for a new job," Smith said. "They basically told us we either need to move south or lose our job. It was out of the blue. We had no idea."
Smith and about 90 of his colleagues were offered severance packages or the option to relocate to Georgia or Tennessee. But for most workers who have spouses with their own careers, elderly parents nearby in need of care, or children still in school, relocating on a whim isn't an option.
These sudden mass layoffs have become increasingly common for workers at AT&T and many other big firms. But it was not meant to be that way.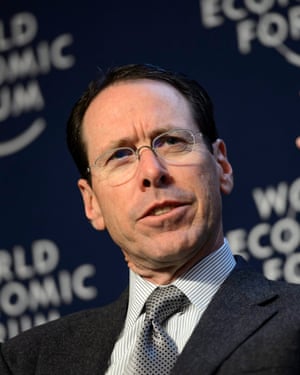 AT&T's CEO, Randall Stephenson, promised in November 2017 to invest $1bn in capital expenditure and create 7,000 new jobs at the company if Trump's hugely controversial tax cut bill passed. Many opponents had slammed the cuts as a corporate giveaway that benefited the super-rich. But big firms lobbied for it, saying – as AT&T did – that it would fund job-creating expansions.
The bill was voted into law in December 2017, reducing the corporate tax rate from 35% to 21%. AT&T's benefit was a tax windfall of $21bn and an additional estimated $3bn annually. But instead of creating jobs and increasing investment into the company, AT&T has eliminated 23,328 jobs since the tax cut bill was passed, according to a recent report by the Communications Workers of America. The CWA also said AT&T reduced their capital investments by $1.4bn.
"The promises that were made from that legislation have not been fulfilled," said Betsy Lafontaine, an AT&T call center employee in Appleton, Wisconsin, for nearly 30 years who was laid off after her center was shut down in March 2019.
An AT&T representative told the Guardian: "We continue to hire in areas where we're seeing increasing demand for products and services, but technology is changing rapidly and that affects hiring and employment. There are fewer jobs in parts of the business that are declining and facing technology shifts."
AT&T is among several large corporations whose CEOs announced support of the Trump tax cut bill by claiming if the legislation passed, their companies would ensure workers reaped benefits from it. But a report published on 22 May by the Congressional Research Service, a non-partisan thinktank for members of Congress, found the tax cuts did not significantly affect the economy or boost wages, but benefited investors more than anyone else.
"The evidence continues to mount that the Trump-GOP tax cuts were a scam, a giant bait-and-switch that promised workers big pay raises, a lot more jobs and new investments, but they largely enriched CEOs and the already wealthy," said Frank Clemente,…