Badly translated versions of classic books and critically panned remakes of Hollywood films appear to have glowing endorsements on Amazon thanks to the website's policy of bundling together reviews of different products.
Analysis by the Guardian shows products that have actually been given one-star ratings appear alongside rave reviews of better quality items, making it impossible for consumers to judge the true value of what they are about to buy.
The Guardian found numerous examples of "bundled" reviews that make poor products look highly rated – rendering the star rating effectively meaningless.
The research found:
• Badly translated or updated Kindle versions of Emma by Jane Austen and Charles Dickens' Great Expectations, which include references to "moms", "guys" and "buddies", but appear to have 4.5-star ratings from hundreds of reviewers.
• A 2017 TV version of Dirty Dancing that shares the 4.5-star reviews of the original film, despite being described by Hollywood Reporter as a "bloated" remake "that nobody asked for and nobody is likely to truly enjoy".
• Reviews for Wuthering Heights appearing under listings for Jane Eyre, and vice versa.
• Complaints from consumers who said they had been misled when buying books from a variety of authors – from JK Rowling to Shakespeare.
• Star ratings being combined for different products in other departments, from electronics to gardening equipment.
The problems with some reviews seem to go back years, with complaints from readers pointing out they were appearing under the wrong works and editions since at least 2014.
After the Guardian got in touch with Amazon it separated some of the mismatched reviews that had been brought to its attention.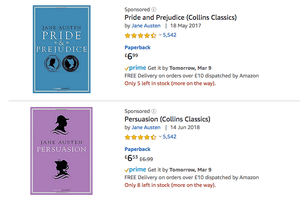 However, the company declined to comment.
The combinations of formats and editions make it impossible for readers to pick between multiple versions of the same products, and allow those selling badly put together editions to piggyback on good reviews.
Anyone glancing at the reviews for a Kindle version of Emma retailing at £4.36 might believe it is worth buying, but a look at the opening pages reveals a poor translation of the original.
Emma's mother has become her mom, and her love interest, Mr Knightley, is "a sensible guy" who uses the word buddy instead of friend.
A passage that is supposed to say "poor Miss Taylor" will be missed, instead reads: "She is surely very sorry to lose terrible Miss Taylor, and I am positive she can leave out her more than she thinks for."
The…