JB Hi-Fi first-half profit rises 5.5pc to $160.1m, full-year sales affirmed
February 11, 2019
Analysts believe JB Hi-Fi, with its low cost of doing business and strong trading culture, is faring better than Harvey Norman as falling house prices, rising living costs and lacklustre consumer sentiment dent demand for discretionary purchases and lead to a spate of profit downgrades among listed retailers.
Mr Murray reaffirmed guidance for full-year sales growth of 3.6 per cent to $7.1 billion and expects net profit for the year to grow by between 1.6 per cent and 5.1 per cent to between $237 million and $245 million.
The top of the range exceeds consensus forecasts around $240 million but is a fraction of the retailer's 15-per cent average annual profit growth over the last 10 years, underlining tough retail conditions.
"That's a wider range than usual and reflects there are a lot of moving parts," Mr Murray said. The top end of guidance implies June-half profit growth of 4 per cent but the bottom end implies a 6 per cent fall in profits.
The better than expected guidance sent short-sellers scurrying. JB Hi-Fi, which is the third most-shorted stock on the ASX, jumped as much as 7 per cent before closing up 1.5 per cent at $22.92.
"They were able to cycle really tough comps [comparable store sales] and the guidance is strong … given the volatility of trading we see this as a very credible result," said JP Morgan retail analyst Shaun Cousins.
"The JB Hi-Fi result was solid in a challenging domestic retail environment," said Tim Carleton, of long-short manager Auscap Asset Management. Mr Carleton named JB Hi-Fi as his preferred long at the Sohn Hearts and Minds investment leaders conference last year.
"It demonstrated again why they are a best-in-class operator. Sales, earnings and cash flow were all strong," he said.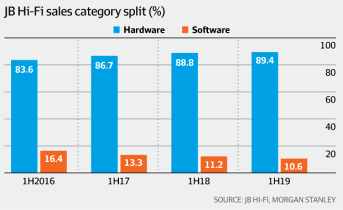 Mr Murray said JB Hi-Fi and The Good Guys would have to "work hard as always" and leverage their strengths in stores and online to defend market share "in a sensible and measured way".
The retailer is increasing floor space in JB Hi-Fi stores for mobile phones, gaming and connected technology such as internet-connected doorbells and security cameras by between 50 and 100 per cent to counter weak demand for software such as music and DVDs.
It is testing a new e-commerce platform designed to make online shopping easier and enable the company to analyse spending so it can start making direct offers to customers based on past purchases.
Online sales rose 21 per cent at JB Hi-Fi but fell 2.4 per cent at The Good Guys due to weaker sales on eBay, where sellers have been discounting heavily to compete with Amazon.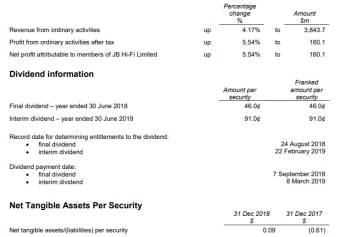 To further differentiate itself from Amazon and online-only rivals, JB Hi-Fi has also started trialling services such as television installation.
At the same time the company is aiming to reduce costs by simplifying its supply chain – merging the JB Hi-Fi and Good Guys' support centres into a single site at Southbank in Melbourne – and benchmarking suppliers to identify underperformance and…
(Excerpt) To read the full article , click
here